Hi Everyone!
It's been a while.
I wonder if @Joaquim or anyone else with experience with the Julia Wrapper would help me here.
I have 3 ternary grids. I need to plot in a single figure one contour of each grid, but ternary! seems to be replacing the figure and not appending.
I have uploaded some test data and here is the script I am running to make the figure.
Any help is welcome!
## A Terminary Diagram with Contours

using DelimitedFiles ,GMT
 
data=readdlm("TestData.txt",Float64);
 
Vp=4.6;
Vs=2.8;
Rho=2.35;
 
ternary([data[:,1] data[:,2] data[:,3] data[:,4]], frame=(annot=20, ticks=10, grid=:a, alabel="Quartz", blabel="Carbonates", clabel="Clays", suffix=" %"),contour=(annot=[Vp],contour=[Vp],labels=(distance=3,),pen=(1.0,:blue)))
ternary!([data[:,1] data[:,2] data[:,3] data[:,5]],contour=(annot=[Vs],contour=[Vs],labels=(distance=3,),pen=(1.0,:red)))
ternary!([data[:,1] data[:,2] data[:,3] data[:,6]], fmt=:pdf,contour=(annot=[Rho],contour=[Rho],labels=(distance=3,),pen=(1.0,:green)),show=true)

I have manually made the figure I am trying to get: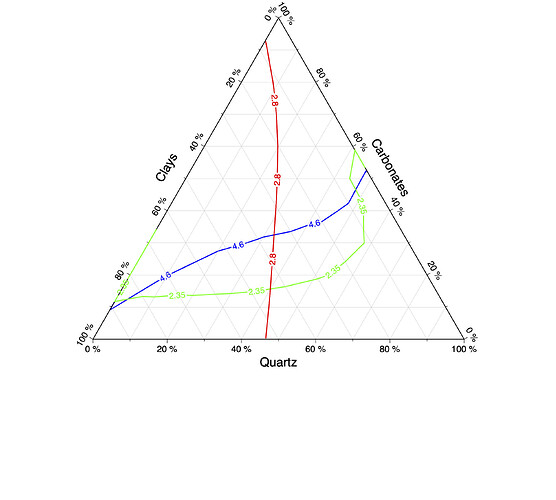 TestData.txt (3.1 KB)