Hi - long time user and huge fan of GMT, with my first question -
I would like to find a way to programmatically determine the visible latitude and longitude range for a map where the visible map area can be adequately specified using the -J command only. For example, in the following command I use a global data region, but I could actually use a much smaller data region if I knew the visible extent:
gmt pscoast -JS130/0/40/5i -Di -W -Rg -Bxaf -Byaf > map.ps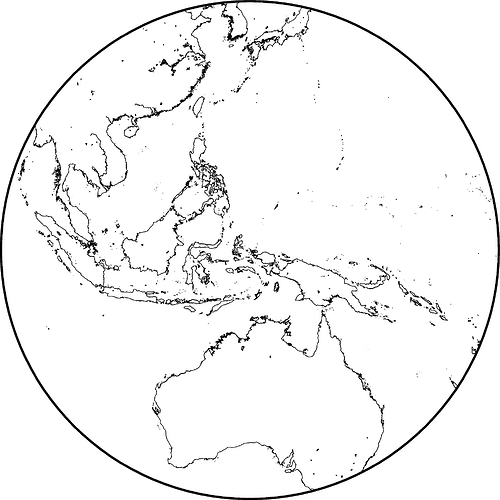 I want to be able to take a given -J command like above, infer the adequate -R, and then clip a dataset like a grid to that -R in order to minimize the size of the files I'm working with. This problem also applies for maps where the final map edges don't follow meridians or parallels, like a rectangular map in a UTM projection.
I have tried things like using gmt psbasemap -A to write out the map boundary, but this doesn't work for circular maps because the rectangular edge is undefined (NaN) and is not the same as the map boundary.
I can -kind of- make it work with a hack, using pscoast -M to export visible coastline lon/lat coordinates and then using awk to get their range - but that won't work for maps over sea only, for instance.
Is there any way to export the drawn map edge directly in geographic coordinates, or is there a different way to determine the smallest -R data region sufficient to cover the visible map for these types of maps? I'm stumped.
Thanks for any help! - Kyle