The option to set geographic regions by specifying ISO country codes is awesome for getting a quick plot of a specific country or continent. Lets use Germany (DE) for this example.
Unfortunately there seems to be no way for an equally quick setting of the projection type. If I omit -J and hope for the best -JQ15c+ is automatically set in the background.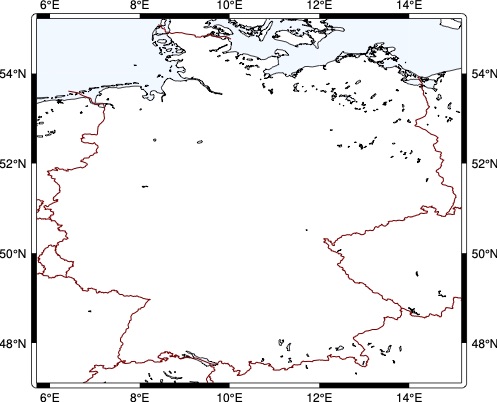 gmt coast -W -RDE+R10m -Ba -N1/1p,darkred -Saliceblue -pdf mapDE2
This is generally a nice thing but leads to severe distortions at the latitudes I'm interested in. So if I want a plot as Lambert Conic Conformal projection (-JL) I still need to figure out my variables to populate -JLlon0/lat0/lat1/lat2/width. I was just able to lazily say "give me a map of Germany" by using -RDE but now I'm annoyed that I need to figure out the values for -JL.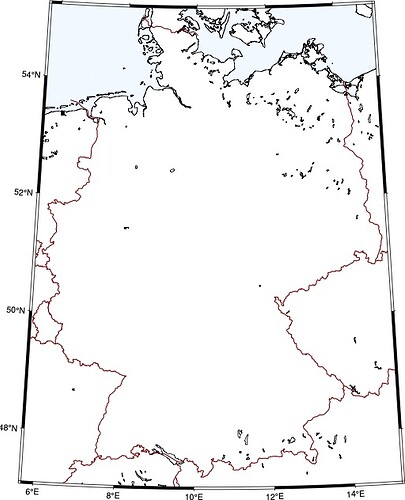 gmt coast -W -RDE+R10m -JL10.5/51/49/53/17c -Ba -N1/1p,darkred -Saliceblue -pdf mapDE
I dream of something like -JLwidth. Just give the desired type of projection and the desired width and GMT does the rest. Maybe not always perfect but for a quick and dirty map quite a useful feature. So what's needed?
-JLlon0/lat0/lat1/lat2/width
In my eyes this could be rather easily calculated from -R. The lon0 and lat0 are the middle of -RDE. lat1 and lat2 are – for simplicity – 1/3 and 2/3 from the distance between highest and lowest latitude.
All my doc reading and experimentations lead nowhere. What do you think – might this be a good idea for a feature request? Maybe not only for -JL but other projections as well?