Hi all!
I have been using GMT for about a decade now, and my maps are almost readable at this point

Recently, I have been using GMT to plot results from finite element models. These models have pre-defined meshes, so I have been taking the model outputs with values at the triangle vertices, and using pscontour with the -E flag to define the network of triangles and plot the model results: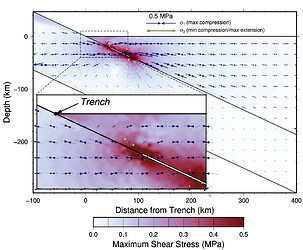 These plots look pretty nice, but with fine meshes my output PostScript files become unmanageably large. I can reduce the file size by using psconvert to generate a PNG or JPEG, but sometimes I prefer having the PostScript to make minor changes in Illustrator (e.g., when making graphics for presentations).
I can make the PostScript files much more tractable by sending the finite element results through triangulate, etc. and plotting the gridded background contours. However, triangulate does not seem to have an option for the user to define an existing network of triangles. This is fine except near discontinuities (for me, faults in the model), where the wrong interpolation will result in smearing across the discontinuity.
Am I correct in thinking there is no user-defined network option for triangulate? If so, is there any possibility of adding this functionality, as in pscontour?