Hello. I have 2D ndarray data of shape 33 x 37 which looks like this: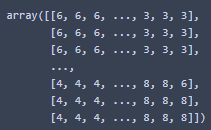 It's basically k-means categorisation of wind data above the Adriatic sea. To verify the validity of the algorithm, I need to georeference it.
I was wondering if there is a way to plot the data (as a grid or contours, I guess?) onto the coastlines of the region? Am I even approaching the problem the right way?
Much obliged.
N.B. I do have the latitude and longitude coordinates in 2 1D arrays which correspond to the i and j index of the 2D ndarray, if it helps?