I want to make a rectangular map with a Lambert projection (-JA-60/-40/15c) that extends just up to the south pole (like this map).
So I using -R xmin/xmax/ymin/ymax +u unit to define the region. So I used this to calculated the distance to the South Pole which gives 5573 km.
S=$(echo -60 -40 | gmt mapproject -G-60/-90+uk -o2)
But I get this image. By try and error I found that I must used -5420 to get the map that I want. Am I using the R method right? Is it a bug?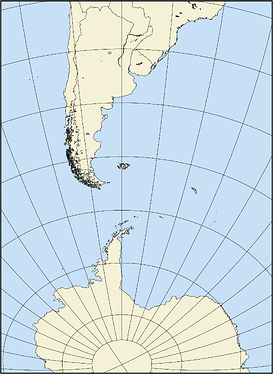 #!/usr/bin/env bash
    	Lat=-40
    	S=$(echo -60 ${Lat} | gmt mapproject -G-60/-90+uk -o2)

    #	Region geografica del mapa
    	REGION=-2500/3100/-5573/2100+uk
        #REGION=-2500/3100/-5420/2000+uk
    	#REGION=-2500/3100/${S}/2000+uk

    gmt begin SouthPole png
    	gmt coast -R$REGION -JA-60/${Lat}/15c -Dl -W -N1 -G245/241/214 -S199/224/246 -Bg10
    gmt end #show